Highly Versatile Self Serve Wash Systems
From state-of-the-art IQ Self Wash that's Smarter, Cleaner, Greener to versatile Mini Stack Pump Units, you'll find the ideal system for maximum self-serve ROI. IQSW combines all your high- and low-pressure functions into an efficient, all inclusive system which optimizes chemical, energy and water consumption and saves space. With A Mini Stack, you "build" a component pump system based on the specific wash options you wish to offer.
More Info
IQ Self Wash Options
Stainless steel construction, electrical panel 

Sturdy castors for easy mobility during installation

Tankless – no need for storage tanks

Pre-plumbed and pre-wired for fast, efficient installation and maintenance

Simple design, installation and maintenance

Freeze protection

CAT 5CP2150W direct drive pumps run smoother and quieter; eliminate belts and pulleys

3 PH, 5 hp electric motors

Variable frequency drives (VFDs) control the motors for precise pump pressure per wash function
PLC & smart relays

Multi pressure delivery 150-1500 psi; quick changeover between high and low pressure services

Injectors for chemical distribution provide precise control of chemical delivery and optimal consumption

Air valves for foaming applications

Regulators & gauges

Low pressure tubing

Freeze protection

Plumbed for manual weep

Weep Mizer compatible
Streamlined Self Service
Check out these key features that make the IQSW System a marvel of car wash engineering and a  breeze to install, operate and maintain.
Compact, tankless all-in-one system

Low noise, low vibration direct drive pumps

High- and Low-pressure services

Highly efficient for lower cost/wash

Powerful delivery for cleaning power

Air Valves for foaming applications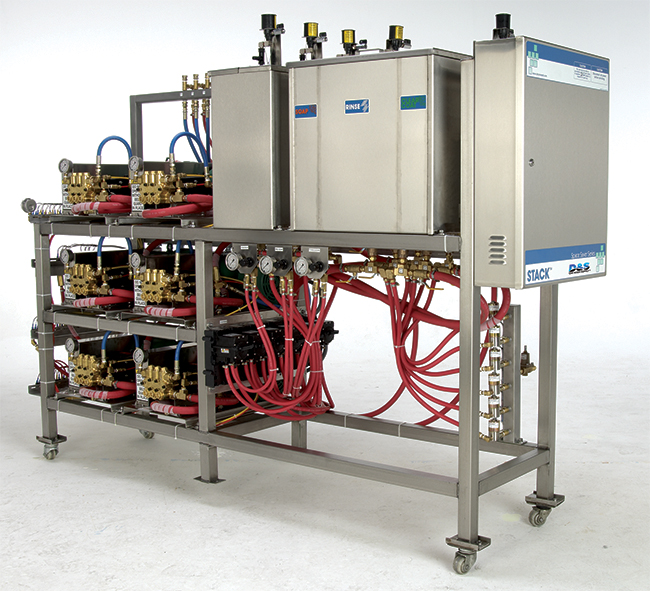 Mini Stack Units
Car wash veterans recognize the Mini Stack Unit as the original Self Serve System. These dual-pressure units offer the essential self-serve functions in a space-saving design available in configurations from 2 to- 6 bays. All heavy-duty, stainless steel frames and tanks form the durable core of these workhorse systems together with top-quality pumps, motors and regulators built for power and simplicity. Units are plumbed for weep and have pre-wired electrical panels for ease of installation and maintenance.
Learn More
Mini Stack Unit Options
COMPONENTS
3 Phase, 5 hp electric motors

Hypro or Cat plunger pumps

Low pressure air pump assembly

Individual adjustments of chemicals per bay

Cold water rinse system

PVC overflow (tanks)

Air and pressure regulators
OPTIONS
Single phase wiring

Power Gloss® medium pressure wax system

600psi repressurization for spot free rinse*

Spare parts kit

Built to ETL/UL standards
DIMENSIONS
2 – 4 Bays:   30" x 59"

5 – 6 Bays:   30" x 79"
Modular Systems
These economical pump systems for one or two bays offer basic high pressure applications for soap, rinse and wax. Each compact unit measures just 30" x 26" and features heavy duty stainless steel frames and pre-wired electrical panels.. Ideal for small commercial self serve washes, multi-unit residential properties, auto dealers, and institutions.
Learn More
Modular System Options
COMPONENTS
3 Phase, 5 hp electric motors

Hypro or Cat plunger pumps

Cold water rinse system

Bay Manifolds
OPTIONS
Single phase wiring

Stainless Steel Chemical and Rinse Tanks

Low Pressure Pumping System

Built to ETL/UL Standards
Low Pressure Pump Systems
More self-serve menu options means more revenue opportunities, and a D&S Low Pressure Pumping Unit easily upgrades existing self-serve bays with today's most popular services like Bug Off, Pre-Soak, Tire Cleaner, Foam Brush, and more.  Units are wall-mounted and feature stainless steel construction, chemical tank and hydrominder.
Learn More